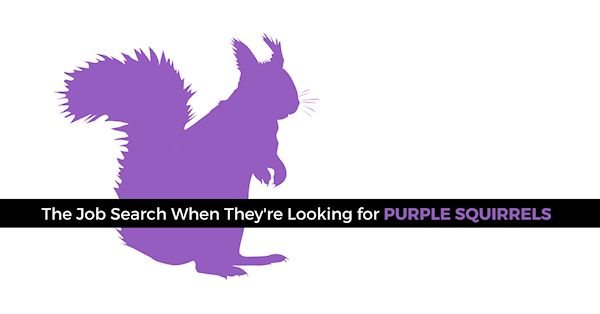 I have a very witty and smart client who has been keeping me updated on his job search – and he's used these subject lines — "Unicorns" was the first and "Purple Squirrel sighting" was the second. I chuckled at both because I knew, without even opening the emails, what they were about. Unicorns and purple squirrels are what many job seekers feel like they are competing against – or, even more accurately, what hiring managers are looking to hire.
No wonder so many job seekers are confused, and at times bewildered, with the job search process.
Kate interviewed for a job where she was told she was overqualified. She countered this with very specific ways in which she would be a great match for the role, as well as articulating why the level of responsibility was a better fit for her than a higher level position (aren't maturity and self-awareness refreshing qualities?).
Kate was one of three candidates who made it to the final interview round. When she finally heard back, about a week later, she was told that they went with another candidate who was "more qualified" than her. Are you confused? Kate was too – and who knows what really happened and why someone else was offered the job.
I think the confusion candidates feel often starts with the qualifications section of a job posting, which is usually below the "Responsibilities" section. One of the first things you'll notice is that it might be called "qualifications," "required qualifications," "preferred qualifications," "experience required," "skills," "talents" or even "nice-to-have skills/experience." I group these under KSAs – knowledge, skills and abilities, but I see plenty of job descriptions that are actually a vague list of soft skills or qualities such as:
–  Good written and oral communication skills.
–  Entrepreneurial spirit with persistence to overcome obstacles with a positive approach
–  Ability to work independently
Job seeker frustration arises when he/she meets most of the technical job qualifications, yet there is a "unicorn" in the midst – a preferred skill/experience that is so elusive NO ONE is going to meet it.
Blah, blah, blah (and a horrible waste of space where you can actually tell the candidate something important about your company or the job!). Candidates are going to be screened on more technical/specific experience skills:
–  4 years of material design experience
–  BSc or MSc in Textiles, Textile Design or Textile Management
–  Experience marketing to affluent, C-level buyers in a high-end, considered-purchase segment
Job seeker frustration arises when he/she meets most of the technical job qualifications, yet there is a "unicorn" in the midst – a preferred skill/experience that is so elusive NO ONE is going to meet it. Such as a marketing manager role that listed "pilot license" as a preferred qualification.
Or, in my client's own words, his experience with unicorns:
"Everyone wants to hire a unicorn. They don't exist!!! Guy on the phone this morning was very good and liked my background. Lots of alignment and matching on the motivators and personality. Problem was, he wanted everything I had to offer PLUS 3 graphic design, art/creative direction and website development (not vision but actually building with code). So frustrating, he wants a unicorn. They don't exist.
Hard to be everything to everyone when they need specific tasks. Had another last week – I had 9 out of the 10 boxes checked, but since I did not have the 10th, I was out of the mix. Companies are quick to eliminate when you do not match ALL vs. finding the strength in the 9 skills and training on the 10th."
I have a confession. I've been part of hiring processes where, as a manager or a member of a search committee, I've elected to add some purple squirrel qualifications – the "Hey, why not? It can't hurt to put it out there" logic.
Simply by doing so, I reinforced unrealistic candidate expectations and made it a unicorn hunt. I regret this. I wish I could go back and take a stand for hiring the best talent rather than hunting for "the one."
I don't have a clear cut solution for how we solve this problem, but let's start with remembering that not only do companies screen candidates, but that candidates need to screen companies and opportunities too. Take back some power and remind yourself that you're searching for the right position for you.
---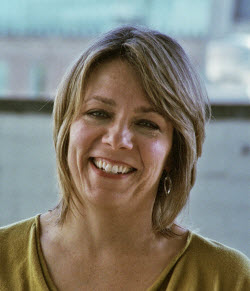 I'm Stacey Lane: Confidence Builder. Networking Smarts. Resume Wordsmith. Personal Branding Strategist. Career Coach.
I help individuals with unique backgrounds find their perfect fit and effectively market themselves so they find work that is as interesting as they are.
Contact me to get started!
---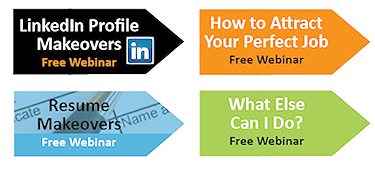 FREE Webinars to Watch at Your Convenience: Want to makeover your LinkedIn Profile? Need to makeover your resume? Or figure out what your next career will be? Need help attracting the perfect job to you? Learn more and signup for my FREE webinars here.
---