Resources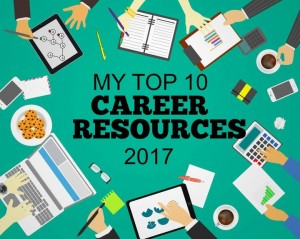 Every year, I share what resources are most relevant/helpful/useful to managing a career. Whether you're job searching, raising your visibility or needing a bit of inspiration, I've got you covered.
Here are my Top 10 Career Resources for 2017:
1. LinkedIn Jobs.  LinkedIn is always tweaking the interface and features and if, in 2017, you're not using the Jobs feature in LinkedIn, you should be. Here's a tutorial. Still employed and doing a below-the-radar job search? Tips here.
2. Choose Yourself by James Altucher. A client recommended this book and now I suggest it when a tough-love, no-holds-barred reality check about your career (and your future) is needed.
3. Quiet: The Power of Introverts in a World that Won't Stop Talking  by Susan Cain is a game-changing book on the power of introversion. Check out her website and follow Susan on LinkedIn.
4. Miracle Morning – You know how you hear about something one day and then the next day you seem to see it everywhere? That's what happened with Miracle Morning by Hal Elrod. There's almost a cult-like following for his morning practice. I love structure and believe in the power of self-development so if you're looking to change your life, why not try it? Oh, and if you're stuck in your job search or feeling discouraged, it just might help you get over that hump too.
5. Changing Careers: Feeling out-of-the-game and stale? Wondering if it's too late to change careers or reinvent yourself? Here are 10 individuals who rocked it in their "encore" years. Get inspired and then go ahead and make some bold, new career goals. And if you need help getting clear about your marketability and strategy, call me.
6. The Dream Job: If you're considering a new career and you're looking for assessments that will match you to your "ideal job" (trust me, they can't, but I know how irresistible it is to at least try), here's a convenient list of online quizzes – many of them free or low-cost.
7. Infographic Resumes: You're at work and you spot a pile of resumes on top of your boss' desk. She's interviewing candidates to join your team. Some of the resumes are so, um, visual. Are these type of resumes the new normal? Maybe. I'm recommending one-page, graphic resumes to many of my clients — but not for online applicant tracking systems, of course.
8. Inspirational Career Quotes: Inspirational, funny and sometimes profound career quotes, like: Too many of us are not living our dreams because we are living in our fears. – Les Brown
9. So Good They Can't Ignore You: Why Skills Trump Passion in the Quest for Work You Love:  by Cal Newport.  Cal coined the phrase "career capital" which he defines as the skills you have that are both rare and valuable and that can be used as leverage in defining your career. My clients hear "career capital" a lot. I use the term in a broader sense – career capital is what makes you most marketable/valuable to potential employers.
10. Mindset – by Carol Dweck. If you're feeling stuck in your career or you've had a few career setbacks that have left you feeling like there's something wrong with you, read this book.