FREE WEBINAR
How to Attract Your Perfect Job (Perfect for YOU!) and Stand Out from the Competition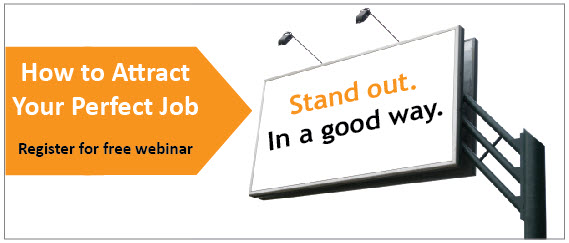 Recording now available!
Sign up below to get instant access
I'm tired of seeing people struggle with their job search. It doesn't have to be painful — especially when I've had clients have an easy experience and land an ideal job.
I've taken what they've done and I'm going to share with you the recipe –
10 Key Things You Can Do Right Now – to attract the perfect job to you.
You'll learn:
The smartest time to begin an active job search (you'll be surprised!)
How to shift from hunting for jobs to attracting them to you
How to successfully navigate a tight job market no matter who's hiring
How to identify your top five marketable brand attributes
Three inspiring case studies of professionals just like you
How to make yourself irresistible as a job candidate
How to stand out from the competition while remaining true to your unique brand
Why your credibility is more important than your experience
Don't stay in a job you hate or put off making a change because you don't know where to start.

Sign Up to Get Access to my Free Career Webinars
After you enter your contact information below, you'll receive details about the webinar recording details.