FREE WEBINAR
LinkedIn Profile Makeovers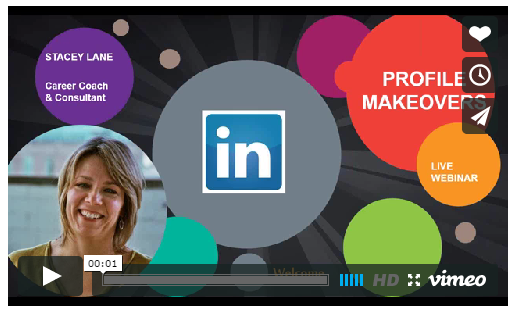 You'll learn:
The top three must-haves more than 80% of professionals overlook with their LinkedIn profiles.
How to merge your personal brand into your LinkedIn profile without it feeling self-promotional or inauthentic.
A simple and highly effective way to increase your profile views.
How to leverage LinkedIn beyond just growing your network.
Get immediate access to this webinar now
(You'll also be added to my content rich newsletter. I'll never share your email address. You can opt out at any time.)
Brand Yourself: LinkedIn Profile Makeovers is perfect if you:
You've been reluctant to dive into LinkedIn because you're unclear about how to utilize the features.
You're new to the job market and your LinkedIn profile hasn't been fully developed.
You're not sure how to make your profile reflect your personal brand.
 You're uneasy with promoting yourself but you know you need to raise your visibility.
You suspect your profile is flat or too generic to get you noticed.
"Thanks for all your help with my LinkedIn profile. As you know, I had a lot of resistance around getting more visible on LinkedIn (my boss doesn't know I'm looking!). Even though I knew I needed to get current and manage my profile, I wasn't convinced it would that valuable. I'm happy to admit I was wrong – no more resistance! I not only got a call out-of-the-blue from a recruiter, it's been so easy for me to use it to reach out to contacts."~  Talent Development Director, Professional Services
"You have a great ability to not only deliver career related information, but also to deliver and communicate in a confidence boosting manner. Your attitude is always positive and you encouraged me to truly peel back the layers and to look at everything. Many things that I overlooked, you paid attention to and those pieces of information helped to shape the resume, interview question responses and so on." ~ Director of Marketing
Stacey is a nationally recognized career coach who helps individuals with unique backgrounds figure out where they fit, how to market themselves and find a career that's as interesting as they are. She works with smart, talented individuals from around the country on everything from networking to personal branding. Known for her candid career guidance, her advice has appeared in local and national publications.

Stacey lives and works in Portland, Oregon with her husband, Scott, and two orange cats (she's a dog person too). She is fond of all things Canadian, happy hours and riding her motorcycle.