About
My clients describe me as supportive, savvy, authentic, enterprising, connected, and fun. (Want to know what others think about you?) I struggled with finding my true career direction for a long time. I wish I could tell you there's a guaranteed, three-step process for you to follow.
There's no magic formula — just my belief that career paths aren't linear (oh how I wish they were!) and that sometimes you need an outside perspective along the way.
Yes, I have a corporate background (15 years, to be exact). No, I didn't hate it. Quite the opposite; when I discovered how easy it could be to be relax into success, my career blossomed and I was having more fun than I ever expected.
Early in my career, what fascinated me most was the question "What made people successful in their work?" What I discovered helped me to navigate several of my own career changes (read: practical experience!).
What made me decide to plunge into coaching? I actually had a career epiphany. Driving home from a happy hour consultation with a former co-worker one evening, I decided that if I could get paid for anything, I would want to get paid for happy hour consultations. The very next day, I came across a book about a brand-new career field – career coaching. Then I tried to talk myself out of it for about two years—until the day that I knew it was now or never for me, and I couldn't put off having my dream career any longer.
Newly widowed and as the Director of International Operations for a large visual communications company, I leapt into coaching. In hindsight, it was one of the easiest and simplest decisions of my life—and absurdly complicated and scary! While I'm probably not going to suggest you do what I did – quit your job, sell your house, move across the country, and start a business – I know what it takes to reinvent yourself professionally. If I can do it, anyone can. Seriously.
Over the years, I've watched as the job market has evolved, and the way that people find jobs and meaningful work has shifted. I love that I've developed a niche helping bright, smart, professionals who aren't easily categorized in a specific job category. I've also established a successful business in one of the funkiest job markets ever (Love you, Portland!).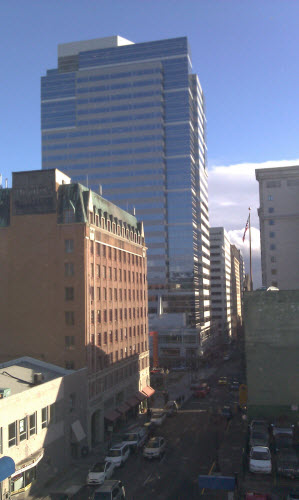 My private practice is based in Portland, Oregon (check out my corner office view), and my clients live in all parts of the country. I received my professional coaching certification in 2002 through the Coaches' Training Institute in San Rafael, California. I've been a featured speaker for a number of professional organizations on career-related topics and regularly present to groups on topics ranging from personal branding to career planning.
I enjoy pop culture, world travel, happy hours, quirky people, reading, and all things Canadian. I'm a cat and a dog person.