How to Find & Land the Job You Want
… the One That's Perfect for You!
Get your free Land That Job! Action Plan to organize your job search, attract ideal opportunities and get the job you want (and love).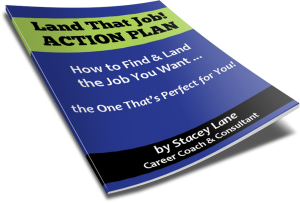 With this comprehensive Action Plan, you'll know:
The secret formula for managing a job search that gets great results in less time.
What you must do before you write one word of your resume.
The number one way to boost your marketability.
7 sure-fire strategies to rise above the competition and get noticed (in a good way).
How to unlock the mystery of the online screening process so you don't get ignored.
The 3 biggest job search mistakes people make and how to avoid them.

The Land That Job! Action Plan is perfect for you if:

You're ready to get a new job, but the challenge of looking for one feels overwhelming.
You're not sure you have time to even look for a job.
You're committed to making a change but you don't know where to start.
You're sending out resumes but you're not getting interviews.
You're not sure if you've got the goods to be marketable
I was floundering, trying to figure out what I wanted to be now and which direction to head. Stacey gave me homework to help me get clear about my strengths, build a brand, and re-build my confidence. She has helped me on my transition by helping me to get clear and focus my energies. And I really enjoy working with her–she's smart, honest, funny and always positive.
– Environmental Program Manager
I was so stuck because I just couldn't figure out how I could use my specific experience in a new way. A light bulb went off for me and I immediately got what my competitive edge could be. I'm now on my way to landing a pretty interesting job in a brand new field.
– Project Manager
You have a great ability to not only deliver career related information, but also to deliver and communicate in a confidence boosting manner. Your attitude is always positive and you encouraged me to truly peel back the layers and to look at everything. Many things that I overlooked, you paid attention to and those pieces of information helped to shape the resume, interview question responses and so on.
– Director of Marketing
Stacey is a nationally recognized career coach who helps individuals with unique backgrounds figure out where they fit, how to market themselves and find a career that's as interesting as they are. She works with smart, talented individuals from around the country on everything from networking to personal branding. Known for her candid career guidance, her advice has appeared in local and national publications.
Stacey lives and works in Portland, Oregon with her husband, Scott, and a few cats (she's a dog person too). She is fond of all things Canadian, happy hours and riding her motorcycle.