FREE WEBINAR
How to Figure Out What Else Can You Do
Realize Your Potential Without Taking a Huge Pay Cut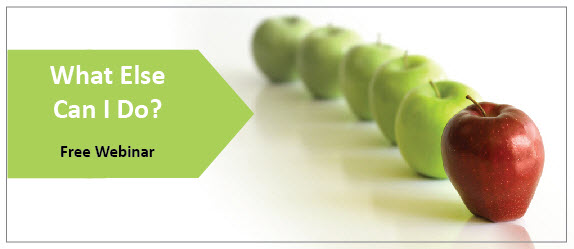 RECORDING NOW AVAILABLE! With this free webinar, you'll learn five ways to determine interesting career options that play to your strengths so you stop dreading Monday mornings.

Discover new ways to connect the dots between your experience, strengths and skills.
Avoid being stuck in a job which isn't a good fit.
The essential question to answer to help you pinpoint your best options.
End the "overwhelm" because you don't know where to start.
How to translate your experience into a brand new industry or career field.

Watch this Free Webinar Now
How to Figure Out What Else You Can Do is perfect for you if:
You want to change industries or fields, but you're not sure what areas you should pursue.
You're unclear about your most marketable skills and experience.
You've not looked for a new job in the past four years.
Want a new job/career in 2014.
I was floundering, trying to figure out what I wanted to be now and which direction to head. She gave me homework to help me get clear about my strengths, build a brand, and re-build my confidence. She has helped me on my transition by helping me to get clear and focus my energies. And I really enjoy working with her–she's smart, honest, funny and always positive.
– Environmental Program Manager
I was so stuck because I just couldn't figure out how I could use my specific experience in a new way. A light bulb went off for me and I immediately got what my competitive edge could be. I'm now on my way to landing a pretty interesting job in a brand new field.
– Project Manager
Stacey is a nationally recognized career coach who specializes in helping hard-to-fit individuals figure out where they fit and how to effectively market themselves. She's known for her relevant, candid career guidance that plays to her clients strengths (and personal brand) so her clients can rock their careers. She works with smart, talented individuals from around the country on everything from networking to job search strategies.