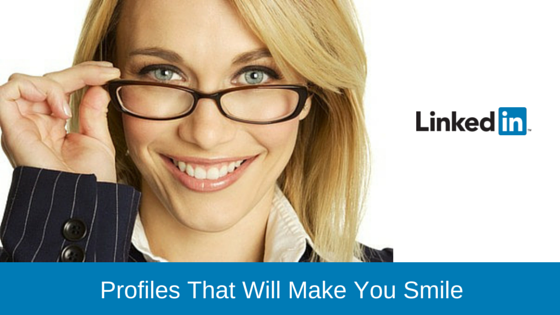 Too serious + too "professional" = a boring LinkedIn profile.
It's true. Your LinkedIn profile can actually be too formal and boring. Just go and read 10 or more LinkedIn profiles in a row and you'll see what I mean. How can you tell if yours is boring? Try reading the first couple of sentences of your summary and then ask yourself if you want to read more. Be honest and if the answer is no, this information is for you. I've got some ideas for you.
"My LinkedIn profile doesn't reflect my personal brand. Can you help?" is what I hear a lot from clients. What they usually mean is that they feel their profile is boring. And it's true – most LinkedIn profiles are a little boring.
Why?
There's very little emotional connection (which is what your personal brand is all about) when it's just a bunch of words and a super-posed picture.
I've recently come across some stand-out LinkedIn examples. Each has done something interesting with their profile. I think you'll agree that they are:
1) full of personality and
2) stand out.
They're humorous. To me.
I'll leave it up to you to decide whether you think they're effective. But there's another reason they're effective profiles – they take a risk. Every time you put yourself out there in an authentic and personal way, you'll run the risk of someone not liking it. That's fine. I'm never going to be all things to all people either. I might be too airy-fairy for one potential client and too direct for another. That's cool.
It's OK if your LinkedIn profile is less formal than your resume. It's supposed to be. And it's also OK if you blur the lines a bit between personal and professional with your profile.
Oh, and these examples are powerful because they also illustrate how you can address a problem or an issue with your profile – time out of the workforce, a "non-career" job, and the day job/other interests dilemma.
The first one is Celinda Shannon. She is Executive Director of the Brookline Chamber of Commerce and a marketing consultant. She does a brilliant job of blending the two identities in her summary. Notice the conversational tone she uses: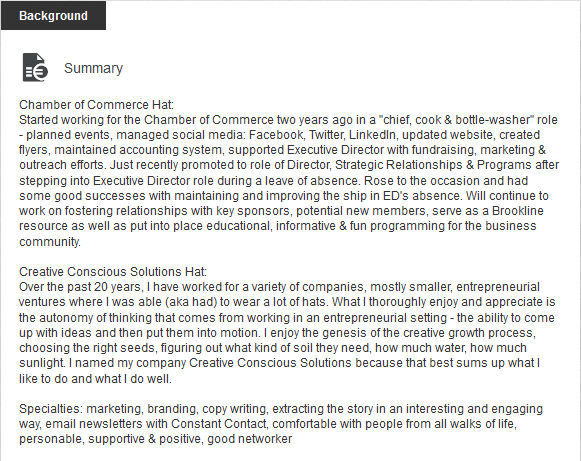 Next is someone who returned to the workforce after raising her family. What I love about her approach is that she put a corporate spin on it – which makes it all the more humorous and "on brand" due to her clients being organizations and companies.

And the final one – The "can't decide to take-it-off/leave-it-on job." Most everyone has one. Probably a job you had early on in your career. It's not a job you want to draw attention to, but there are reasons you're hesitant to remove it from your experience section.
The job was a turning point. It provided critical exposure that ties into what you do today. It explains how you went from one field to another. Here's a very humorous example of how one person positioned this sort of experience on his LinkedIn profile:

Maybe you think these examples are silly. Or unprofessional. That's fine. Because the very fact that they elicited some sort of reaction from you is my point.
Personal branding is about emotional connection and we do that when we present our uniqueness in an authentic and genuine way. Quirks and all.
So why not take a chance and put more of yourself into your profile? It may feel awkward or vulnerable at first, but that's a good sign that your brand is visible. And taking yourself less seriously is a sure—fire way to be more approachable. Blur the lines and report back.
---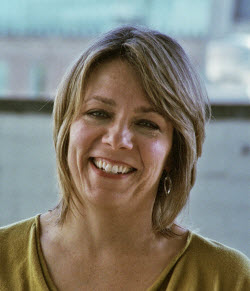 I'm Stacey Lane: Confidence Builder. Networking Smarts. Resume Wordsmith. Personal Branding Strategist. Career Coach.
I help individuals with unique backgrounds find their perfect fit and effectively market themselves so they find work that is as interesting as they are.
Contact me to get started!
---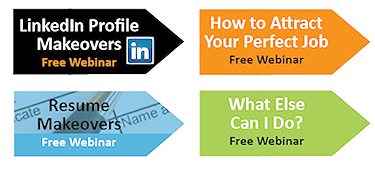 FREE Webinars to watch at your convenience: Want to makeover your LinkedIn profile or learn job-seeking tips & tricks? Need to makeover your resume? Or figure out what your next career will be? Need help attracting the perfect job to you? Learn more and signup for my FREE webinars here.
---