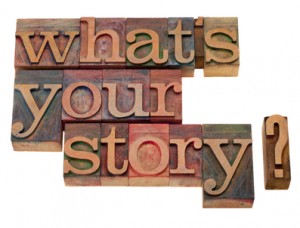 Woo-hoo, let's look at LinkedIn summaries — get right to business.  Your LinkedIn summary is 2000 characters of opportunity (or chocolately deliciousness, if you will)   Why?  Because you get to create your summary – nothing is filled in for you – so you can tell your career story in an authentic, interesting way.  If you need more convincing that your LinkedIn summary is important you'll find tons of compelling stuff online.  I'm going to focus instead on giving you some tangible suggestions for how to actually write your summary.
Oh, just one more thing.  I want to tell you why summaries are my favorite part of your profile.  Because it's where I get to learn more about you and your brand.  Really.  I read your profile WANTING to know more than I can read in the plain old experience and education sections.  I skip to the summary section (it's below the new "activity" section so it usually appears below the fold on my laptop screen) so don't cheat me out of my pleasure, OK?
Here are the top five reasons I've heard – in the past week alone — why clients have skipped this part of their LinkedIn profile: 
I'm not comfortable writing about myself.

I don't know what to say.

I'm trying to change careers so I have no idea how to write my summary.   I've got experience in one area, but am trying to "break into" another.

I don't want my boss (or co-workers) to know I'm looking for a job.

I hate bragging about myself.  It's not polite. 
Sound familiar?  I'm going to go all tough love on you here and tell you this:  GET OVER IT. 
Your LinkedIn summary isn't about you.  It's about the reader. Well, not really, but you know what I mean.  I'm talking about the purpose of your LinkedIn summary.  It's really to help whoever is reading your profile to understand your career story more completely.  Sure, I can just read your work history and your education/training, but do they tell the whole story?  I didn't think so. 
Notice that I've tried to connect a few dots that wouldn't be apparent from just reading my work history/experience or my education/training sections.   Hopefully, you'll get a sense of my work style and my fascination for all things career-related.  Remember, you convey what you're passionate about through your story – you don't have to use a this-is-what-I'm-passionate-about statement.  Your goal?  To sound human. 
Your LinkedIn summary is 2000 characters of opportunity (or chocolately deliciousness, if you will)   Why?  Because you get to create your summary – nothing is filled in for you – so you can tell your career story in an authentic, interesting way.
Want to instantly and effectively brand yourself?  Write down your Career Story – how you got from where you started to where you are today.  Go and do it.  Talk about how you made transitions, found opportunities, and even how you chose your current line of work.  Write down how your work utilizes your strengths.  What other people get from working with you.  All of these elements make your career story unique.  What?  You think it sounds rather mundane or not very exciting?  Not so.  It doesn't have to be exciting or attention-grabbing to be a great foundation for your LinkedIn profile. 
From someone who reads a ton of LinkedIn profiles – let me assure you that your career story is unique.  It's yours.  If excuses number 1, 2, or 5 above resonated with you, writing down your Career Story is your solution.  Still stuck?  Ask a few friends what they think is most interesting/notable about your career story.    Pick one of the threads they identify and start working on telling your career story from that perspective.   See where you end up. 
There are some LinkedIn profile "experts" who claim that your summary should be full of keywords.  I'm not totally sold on that strategy.  I've seen far too many people go overboard and stuff their summaries full of keywords to the point where it sounds unnatural and like it was written by a robot, not a human.  If doing a lot of strategic research on keywords makes sense, do it.  If not, don't fret about it.  This is what LinkedIn has to say about keywords:
More keywords aren't always better. Our advice would be to only include the keywords (including repeated keywords) in your Profile that best reflect your expertise and experience. If you integrate an extended list of keywords into your Profile, you are likely showing up in a high number of searches. The question you need to ask yourself, however, is whether members consider your Profile relevant to their search. If not, their behavior as a collective group may be influencing the algorithm used to rank you in search results.
Also, keep this in mind:  LinkedIn rankings/relevance results are based on algorithms, and their algorithms favor completed profiles and levels of connectedness.  Both of these you can control way more easily than the keywords someone may (or may not) use to find your profile.  According to another source, keywords in your Name, Headline, Company Name, Job Title and Skills sections rank higher in search results.
Back to the practical.  Here's another good summary which clearly shows what Julie's all about. My apologies for including one written by someone who writes for a living, but I couldn't help myself.    www.linkedin.com/in/juliemariewilliams
If excuse #3 made you cringe, let's talk about using your summary to help you navigate a change in career direction.  Start with your career story.  Let it help you weave together where you've been with where you're going.  For example, after you've summarized your work experience and a couple of interesting projects that shaped your experience, an effective strategy is to include a transition statement like "Exploring the intersection of design and consumer insights and looking for connections in the industrial design area.   I'm particularly interested in flawless functioning and brand loyalty."
If excuse #4 is holding you back, here's the lowdown: I doubt your boss (and/or coworkers) are really paying that close of attention to what you do, especially when it comes to your LinkedIn profile.   LinkedIn is a professional network.  It's not just a job search tool.  There are plenty of people on LinkedIn who aren't looking for work, so if your boss makes the assumption that you're only on LinkedIn because you're looking for work, well, that's a pretty outdated and old-school mentality.
I know there's one thing you want to ask me  — it's the first person or third person question. More and more, we're seeing LinkedIn profiles written in first person.  Third person just seems a little odd or pretentious.  On the flip side, writing a summary that is full of accomplishments and brag-ilicious details about your career… well, first person can seem a little weird too.  I'm not a huge fan of the boastful LinkedIn profile (I like to decide how great someone is, don't feel like you have to tell me – over and over again), but I am a fan of you being clear about your accomplishments.   For most of us, first person is the way to go. 
Next we'll explore the experience section on LinkedIn.