Career Tip 3: Provide one contact phone number on resume.  Make it easy for the recruiter/hiring manager.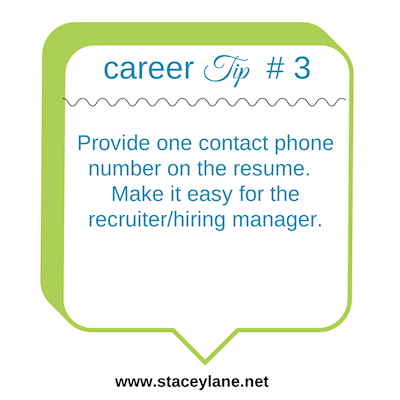 "This is what you've got for me?  This is your best advice?"  Well, no.  Not exactly.  But bear with me, because this tip is about making your resume more user-friendly in a big picture way.  Now why are you using more than one phone number on your resume?  Does it really make it easier for someone to reach you?  No, really, does it?
If you don't answer your phone (the one that you carry with you), will you be easier to reach on your land line or an alternate number?  Does anyone even answer a land line,  especially during the day, when a prospective employer is most likely going to be calling? Probably not.   Now two numbers on your resume isn't going to overwhelm a recruiter (they'll keep their wits about them, trust me) but it's helpful to think about every single detail on your resume in this same way and ask yourself "Why am I including this? "
One of the most common mistakes I see on resumes is that professionals over-explain or provide too many details – clearly, they want to be exact (and truthful).  I call these types of details "resume weeds."  I'm not suggesting you be dishonest on your resume, just ask yourself "Is this detail helpful/important to the reader?" 
Remember, the whole point of your resume is to get an interview.  That's it.  It's not to make sure every nuance and angle about your background is covered.
Want some other examples of resume weeds?
Giving a "temporary" and "permanent" address (please, soon-to-be college graduates, knock it off!)
Using "references available upon request."
Explaining why you left your last organization.
Providing the street address of past employers.
Extraneous information/detail that someone, who's giving a 30 second glance to your resume, doesn't really need to know.  Save your resume real estate for the important stuff – like accomplishments and showing that you understand the challenges the prospective employer is facing.
---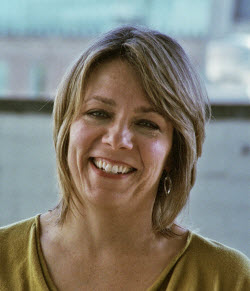 I'm Stacey Lane: Confidence Builder. Networking Smarts. Resume Wordsmith. Personal Branding Strategist. Career Coach.
I help individuals with unique backgrounds find their perfect fit and effectively market themselves so they find work that is as interesting as they are.
Contact me to get started!
---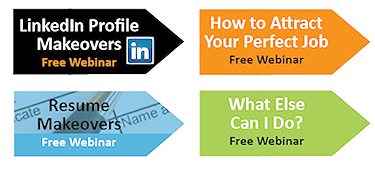 FREE Webinars to watch at your convenience: Want to makeover your LinkedIn profile or learn job-seeking tips & tricks? Need to makeover your resume? Or figure out what your next career will be? Need help attracting the perfect job to you? Learn more and signup for my FREE webinars here.
---