Career Tip #1: Trend spotting:  T-shaped skills are most marketable.  One area of deep expertise with broad skills on top.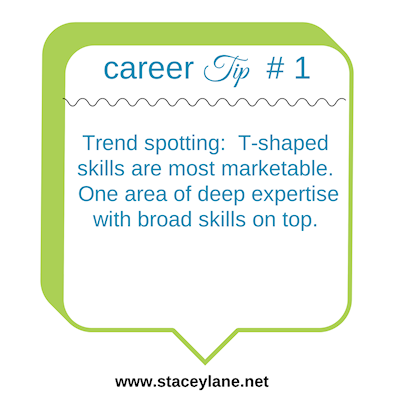 T-shaped individuals have depth AND breadth to their skills. They possess deep expertise in a field or discipline – whether it be business, design or even social science. But they also have broad skills (the horizontal part of the "T") which are defined as the ability to collaborate across disciplines, or, in other words, the ability to apply what they've learned across situations.  Communication, empathy, creativity all fall into this category.
Take the international tax accountant who knows everything there is to know about corporate taxes – how well does she understand other disciplines?  Can she apply her tax knowledge/experience to a team of product designers and supply chain managers to help them make better business decisions when it comes to suppliers and sourcing?
So how do you demonstrate these essential T-skills, especially through your resume?
By how you talk about your experiences and the projects you've worked on – in resume-speak, through your accomplishments.  Say you're in sales. That's your specialty.  But in your line of work, every client has unique needs that requires you to involve engineering, finance and maybe even customer support in order to acquire a new customer for the organization.  This is how your T-skills story gets told through your resume. 
People with T-shaped skills tend to be agile and adaptable.  Does your resume tell this story?  Have you worked in start-up environments, even within an established organization?  T-shaped individuals thrive in start-ups.  If you've moved around a lot – either from job-to-job or within an organization – is this due to your t-skills?  If so, make sure your resume is telling this story.
---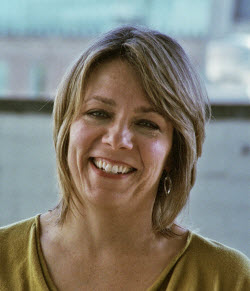 I'm Stacey Lane: Confidence Builder. Networking Smarts. Resume Wordsmith. Personal Branding Strategist. Career Coach.
I help individuals with unique backgrounds find their perfect fit and effectively market themselves so they find work that is as interesting as they are.
Contact me to get started!
---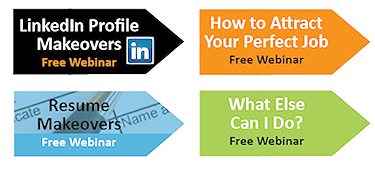 FREE Webinars to watch at your convenience: Want to makeover your LinkedIn profile or learn job-seeking tips & tricks? Need to makeover your resume? Or figure out what your next career will be? Need help attracting the perfect job to you? Learn more and signup for my FREE webinars here.
---