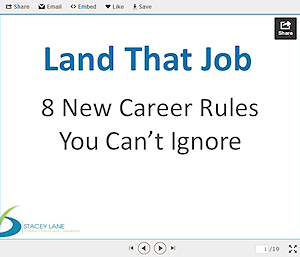 How is it that you see other professionals in your field or in other fields that just seem to attract new job opportunities, without really trying?
Maybe they know something that you don't? 
If you haven't been "out there" looking for a new step in your career in a while… stay tuned because things have changed in the last few years… a lot. 
It reminds me of the scene in "Sleepless in Seattle" when Tom Hank's character summons the courage to call a woman for a drink and before he knew it, he had a dinner date, time, location, and transportation arrangements all made in a matter of seconds. Yep, dating had changed since he was out there. And searching for a new job has too.
Check out my SlideShare: "8 New Career Rules You Can't Ignore" here.
---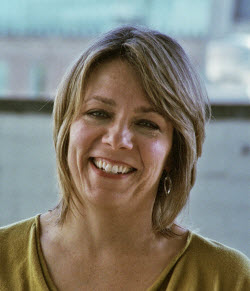 I'm Stacey Lane: Confidence Builder. Networking Smarts. Resume Wordsmith. Personal Branding Strategist. Career Coach. I help individuals with unique backgrounds find their perfect fit and effectively market themselves so they find work that is as interesting as they are.