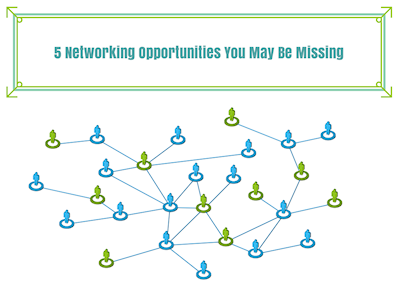 Networking opportunities are all around you. Let's explore some that you may not have thought of…
One:  Focusing on networking "events" and not networking "moments"
Networking moments are all around us, and happily, for us introverts, many of them are one-on-one and not just in large groups of strangers. Set some networking moment goals for a week.  For  example, say you've given yourself a goal of spending two hours per week networking (if you're in an active job search, the number will be more like 20 hours).   Large group, in-person networking isn't your only option. Get creative and plan for variety.
Mix it up by:
spending 30 minutes before work meeting a former colleague to grab a cup of coffee before you head into the office.
taking 15 minutes to send a note to a thought leader whose article helped you organize your strategy for an upcoming meeting.
taking a mid-afternoon break to do some LinkedIn research and reach out to existing contacts or introduce yourself to a few new ones.
scanning the "People on the Move" in your local business journal section and acknowledge others' success.
dropping by someone's office on your way back from an appointment "just to say hello."
engaging the new parent who's standing on the sidelines at your kids' soccer game.   Moments add up in fun and interesting ways.
"Be open to all sorts of contacts – but don't wait until you need your network to build it."
 Two: Not using LinkedIn to keep track of your network
You know I'm a huge fan of LinkedIn and think its absolute necessary for every professional at every stage of the career game.  But did you know that LinkedIn has a super-duper, built-in networking tool.  It's the update feed (on your home page).  New jobs, shared articles, who's joined which groups, who's made new connections, etc.  It's your best friend when it comes to easy networking.
To make the most of your newsfeed, simply go through the updates and send one or two notes – I like to acknowledge new jobs, helpful articles, and of course, new photos.  It's super easy and takes about 5 minutes and it feels natural and organic.  Take advantage of it.
Three: Keeping your network too focused.
Most of us have a professional specialty or an industry specialty. It's natural to network within these groups more than others,  but there's  great benefit to tapping into new networks – think new industries, up/down from your level of responsibility and even into brand new professional areas (for example, facilities management if you're in human resources).   Easy places to start?  Think about who you interact with outside of work hours.  Neighbors, sports team members or special interest/hobby groups.
Four: Not seizing opportunities to continue the conversation
Networking is all about building relationships, over time.  Your follow-up plan doesn't have to be a labor intensive process of handwriting personal notes to everyone in your network every 4-6 weeks.  It might look like this:  You meet someone for coffee because you're interested in how they made the switch from finance into investor relations.  During the conversation, they ask to see your resume.  Oops, you didn't bring it.  Awesome!  Use the follow-up to send your resume and ask them for their thoughts.  Or send them a LinkedIn invite.  Introduce them to someone else in your network.  Or simply share a resource you've found that you think they'll find interesting or useful.  The point is that continuing the conversation is where networking really begins.
Five: Focusing on a specific type of contact
Let's say you sell commercial equipment, so your ideal contacts are either customers or hiring managers, right?  Not really.  Just like many job seekers tend to think human resources professionals or the hiring manager is an ideal contact.
I've found second level contacts – the contacts of my direct contacts – to be even more powerful.  Why? Because my first level contacts tend to be my advocates.  They know, like and trust me.  And many of them might be connected to my ideal contacts, and they have the ability to endorse me to them.
I have some great examples about clients who found great success through unusual contacts such as  a recruiter who landed a huge contract because an administrative assistant took a special interest in helping her. Another one is a new graduate who found a lost article and then ended up getting a job at one of his target companies because the article owner knew a long-time employee at that company.
Be open to all sorts of contacts – but don't wait until you need your network to build it.

---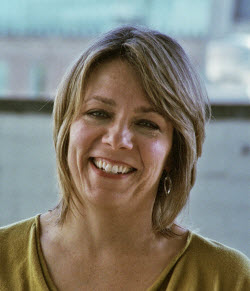 I'm Stacey Lane: Confidence Builder. Networking Smarts. Resume Wordsmith. Personal Branding Strategist. Career Coach.
I help individuals with unique backgrounds find their perfect fit and effectively market themselves so they find work that is as interesting as they are.
Contact me to get started!
---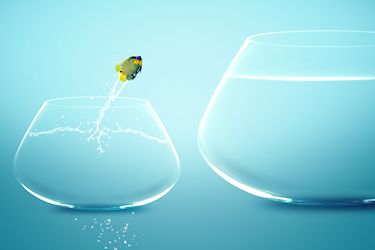 FREE Webinars to Watch at Your Convenience: Need to makeover your resume? Or figure out what your next career will be? Need help attracting the perfect job to you? Learn more and signup for my FREE webinars here.
---